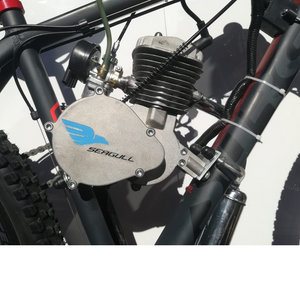 the pioneers of powered bicycles
easy to install & cheap to maintain.
80km per 2ltr fuel.
reliable & durable.
the explorer in you.
Pioneering the future of powered bicycles.
Seagull Powered aims to be amongst the leaders in pioneering powered, pedal-assist (petrol & electrical) bicycles across South Africa, Africa and beyond. As fanatical enthusiasts of powered bicycles, we have become known as the industry leaders in petrol powered conversion and bicycle kits, establishing a trustworthy reputation for quality, expertise and customer service (read our reviews).  
EBikes - our future.
Electrical conversion kits and E-bikes are becoming our new journey of learning and progression into the future of powered bicycles and you can be sure Seagull Powered will be there at the forefront. We have rear and front wheel electrical conversion kits available online.
WE EAT, SLEEP, RIDE POWERED BICYCLES
EXCELLENT CUSTOMER SUPPORT
Excellent customer service can seem like a notion of the past. Well, not at all with Seagull Powered. We are so passionate about petrol powered bicycles that customer satisfaction is ingrained in every engagement with you as a customer regardless if you buy from us or not. We challenge you to test us. 
3 MONTHS WARRANTY
We put a lot of care, effort and engineering into Seagull Powered petrol engine kits, bicycles and Fat Wheel Bikes. We're proud of them and love riding them daily. We want  to ensure you of our reliability and quality! That's why every engine kit or bicycle we ship is protected by our 3 month warranty.
SAFE, SECURE SHIPPING
All Seagull Powered products are shipped to any address in South Africa and Africa*. If you in Cape Town and would like to collect, you can Self-Collection at checkout and we'll be in touch to arrange a pickup time.